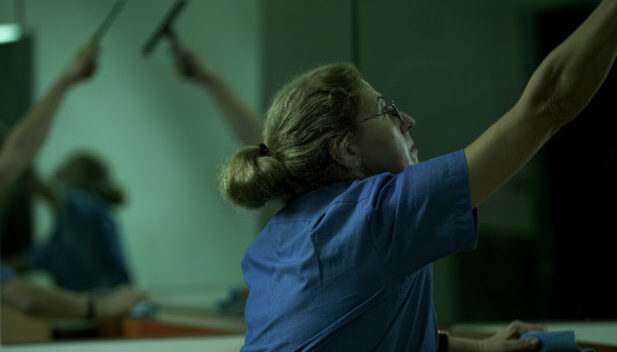 SYNOPSIS As dusk approaches and workers stream out of the city, thousands of individuals are about the begins their day's work. They shuffle through subterranean car parks, sprawling shopping centers and soaring office towers, leaving behind a trail of gleaming floors and emptied waste paper baskets. They are the cleaners – an invisible and underpaid army whose necessary work goes unnoticed.In Lessons From The Night we spend a night with Maia, who reflects on life, work and toilet bowls as we follow her nightly cleaning round through silent empty spaces. As she works, she reveals some of the secrets of the city – the traces of human presence that we leave behind each day – and of her former life in Bulgaria. Lessons From The Night is both a homage to the menial worker and an existential film about cleaning.
WEBSITE LINKS (Click on Names)
Lessons From The Night on Facebook
Lessons From The Night Page on IMDb
Lessons From The Night Clip on IMDb
INFORMATION
9 mins   HDV   16:9   Colour  2008

Lessons From The Night was funded through Open Channel's Raw Nerve initiative with Screen Australia.
Marketing Assistance financed by Screen Australia.
CREW
Writer, Director & Editor – Adrian Francis
Producer – Melanie Brunt
DOP – Marcus Dineen
Sound Designer – John Kassab
Sound Recordist – Bart Bee
Series Producer – Stuart Parkyn
Executive Producer – Gai Dunlop
FESTIVAL SCREENINGS
2010  Newburyport Documentary Festival, USA
2010  St Kilda Film Festival, Australia
2009  Human Rights Film Festival, Prado Ljudski Sarajevo
2009  Winner Festival Grand Prix
&       Winner Golden Olive for Best Documentary
&       Winner Best Photography
– XIV International TV Festival, Bar Montenegro
2009  Dokufest, Kosovo
2009  Melbourne International Film Festival, Australia
2009  Karlovy Vary International Film Festival, Czech Republic
2009  Silverdocs AFI/Discovery Channel Film Festival, USA
2009  Edinburgh Film Festival, Scotland
2009  Los Angeles Film Festival, USA
2009  Brooklyn Film Festival, USA
2009  Seattle International Film Festival, USA
2009  Special Jury Mention
– In The Palace International Short Film Festival, Bulgaria
2009  Dungog Film Festival, Australia
2009  Visions du Reel, Switzerland
2009  Riverrun International Film Festival, USA
2009  OzFlix: Australian Film Weekend, Canada
2009  Flickerfest International Short Film Festival, Australia
2009  Sundance Film Festival, USA
DIRECTOR BIOGRAPHY
After graduating with a Bachelor of Arts in Screen Studies and making several fiction short films, Adrian Francis travelled extensively in Europe and Asia and spent four years teaching English in Tokyo. He returned to Australia to complete a Graduate Diploma in Documentary in 2006, where he won student awards for his documentary short Soft Words. His films have screened in competition at international film festivals around the world. Adrian is currently in Tokyo developing his next documentary.
FILM STILLS
Stills Photographer – Christine Francis
Graphic Design – Takeshi Tsuchiya